Watch Dog Siren (Series 2)-A200
The WATCHDOG™ Blower-Siren helps prevent suffocation, dangerous falls and other common accidents caused by the sudden deflation of inflatable bounce houses.
Inflatable bounce houses need a blower to keep them inflated. But what happens when that blower stops inflating? Or if there is a sudden air loss caused by a detached blower tube? When an inflatable loses air, it immediately becomes unstable and children can become injured due to falls or become trapped inside. When the unthinkable happens, every second counts.
The WATCHDOG™ Blower-Siren uses a patented smart chip that automatically detects if the blower is shut off, loses power, or if the inflatable suffers sudden air loss. If it detects a problem, it sounds its 100+ decibel siren! This gives you precious time to help get children out safely.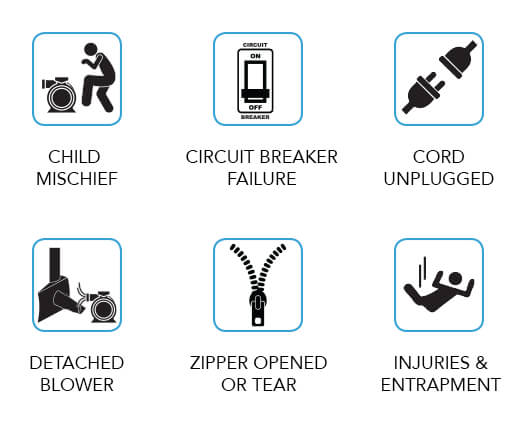 Circuit breaker failure detection
Generator failure detection
Unplugged cords detection
Blower inadvertently turned off detection (child mischief)
Detached blower tube detection
Zipper opened or large tear detection
Blocked blower intake detection
Rugged & durable ABS plastic
Integrated cord management
Powerful 100+ decibel siren
Arming indicator light
Internal battery that automatically recharges
Stackable design for easy storage
Meets new ASTM F2374-10 Requirement for Deflation Alert Device
The new 2018 ASTM F24 Standard on Amusement Rides & Devices (F2374-10) requires the use of a DEFLATION ALERT SYSTEM for all inflatables with a playing surface of 8' or higher.
The WATCHDOG™ (Series 2) meets these new requirements.
NEW 2018 ASTM F-24 Standards on Amusement Rides & Devices
ASTM F2374-10 DEFLATION ALERT SYSTEM REQUIREMENT:
Inflatable devices with platforms or play areas higher than 8 feet (2.4 m) off the ground shall require a deflation alert system.
Where deflation alert systems are used with inflatable amusement devices, the deflation alert system shall incorporate one of the following:
(a) an automated means to monitor the onset of deflation and alert the operator/attendant, OR. (b) an automated means to monitor the loss of blower function AND a supplemental means to allow operator/attendants to monitor other failure modes that cause rapid deflation which can result in a loss of adequate air support to maintain the structure of the inflatable device.
Learn more at WatchdogSiren.com
---
The most populars
---